Wales Surf Wave Generator Starts Up
The first waves have peeled across an artificial surf lagoon built on the site of an old aluminium works on the edge of the Snowdonia National Park.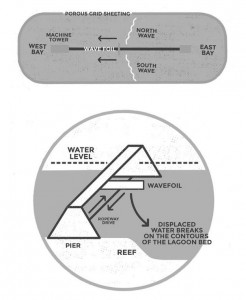 The inland lake covers an area the size of six football pitches, and the site cost £15m to build.
The owners of Surf Snowdonia claim to have created the longest man-made surf wave in the world.
The lozenge-shaped lagoon now dominating the Conwy valley is 300m long and 110m wide.
That's roughly the size of six football pitches.
It holds more than six million gallons (33,000 cu m) of filtered rainwater that is piped down from mountain reservoirs.
A snowplough-shaped underwater foil positioned under a pier running the length of the lake is designed to generate breakers reaching up to a hefty 6ft (2m).
It "barrels", which means it is fast and large enough to create a kind of mini "tube", which is what experienced surfers want. Surf Snowdonia says it will create up to 50 waves per hour.
Keep Reading at: BBC News